Sildenafil
The low cost alternative to Viagra®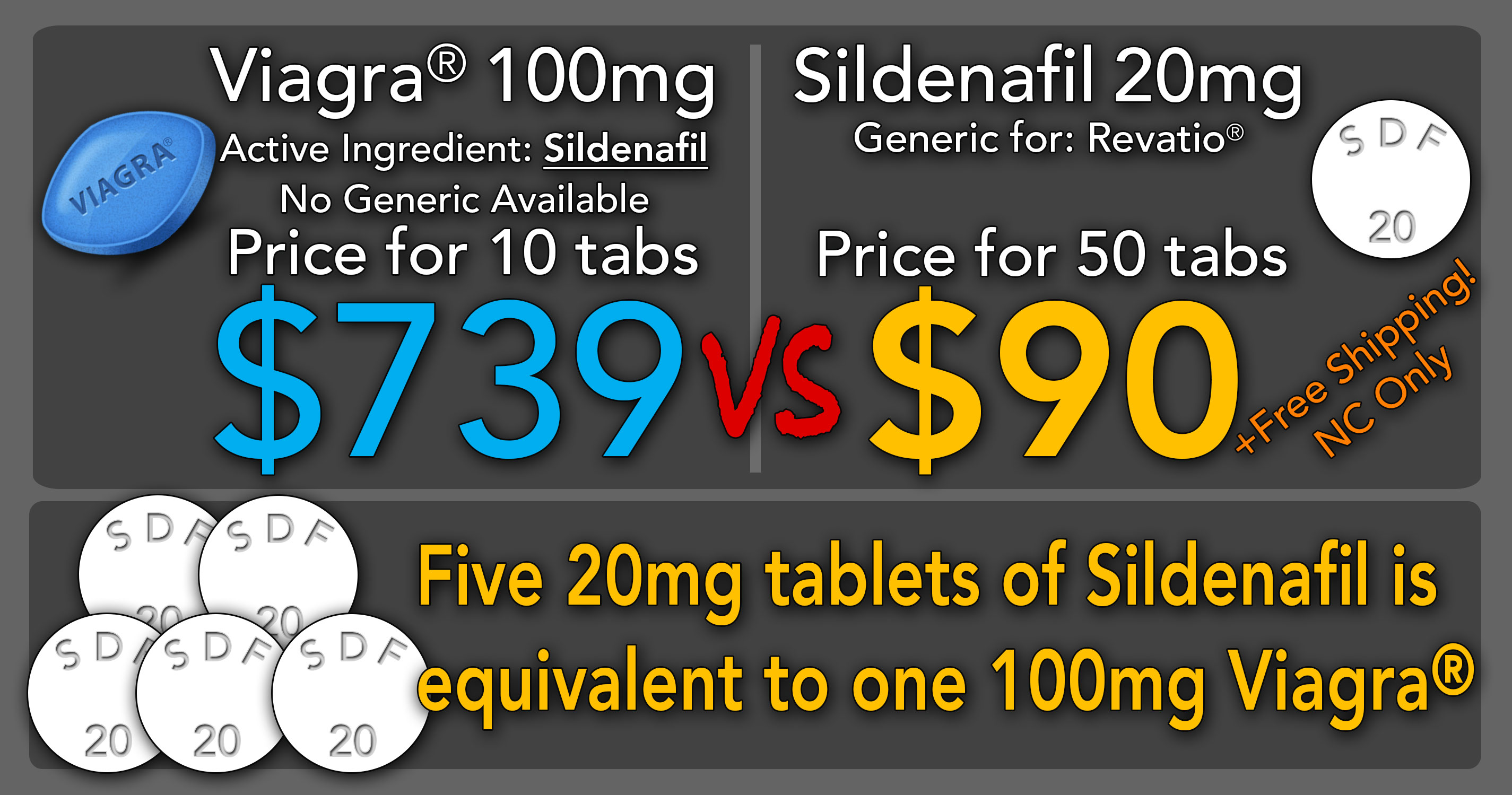 Save money with our low cost alternative to Viagra ®
Free Shipping! (min. 50 tabs) (NC Only)
Sildenafil, the active ingredient found in Viagra ®, can now be obtained in a 20mg tablet and will save you money!
Sildenafil 20mg is an FDA approved generic for Revatio ®. This is not an FDA approved generic for Viagra ®, even though the active ingredient is identical.
We CANNOT substitute any prescription (or refill) written for Viagra ® without a new prescription from your physician written for Sildenafil 20mg tablets.
You can contact your doctor about getting a prescription for Sildenafil, or we can contact them for you, just give us a call or send us an e-mail!
If you prefer to talk to you doctor in person, simply print out the Sildenafil Information Page below and show it to your doctor at your next visit:
What to tell your doctor
Simply ask your doctor for a prescription for Sildenafil 20mg tablets. The common directions are: Take 2-5 tablets as needed for sexual activity.
Free Shipping
Currently, we only ship to North Carolina. Shipping for Sildenafil is free with your purchase of #50 or more tablets.
IMPORTANT SAFETY INFORMATION
Do not take Sildenafil if you:
take any other medicines called nitrates, often prescribed for chest pain, as this may cause a sudden, unsafe drop in blood pressure.
are allergic to sildenafil, as contained in VIAGRA ® and REVATIO ®.
Discuss your health with your doctor to ensure that you are healthy enough for sex. If you experience chest pain, dizziness, or nausea during sex, seek immediate medical help.
Send us an e-mail and we'll contact your doctor for you!